Posted on
Scobey Grads Lekvold, Handran Advance To NAIA's Elite Eight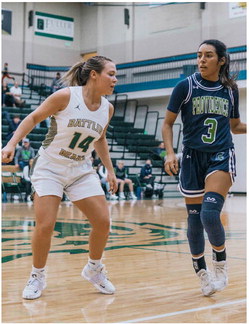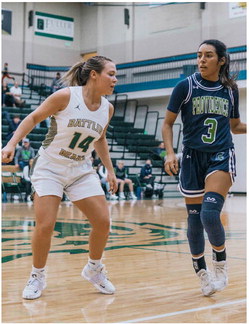 Dethman, Federico Also Part Of Excitement
Two Scobey High School graduates of the Class of 2021 found themselves playing in the National Association of Intercollegiate Athletics (NAIA) quarterfinal round of eight on Saturday, March 19.
To put that into perspective there are 230 NAIA women's teams and 230 NAIA men's spread throughout the nation with designs of qualifying for this final-16 event.
Gracee Lekvold, playing for the Rocky Mountain College Battlin' Bears of Billings, Montana, and Caden Handran of the College of Idaho Yotes of Caldwell, Idaho realized plenty of playing time in each of their two games. It should also be noted Mackenzie Dethman, who played in Montana's East C Division with the Froid-Lake Redhawks, is currently a teammate of Lekvold on the Rocky roster.
The 41st annual NAIA Division I Women's Basketball National Championship began Friday, March 11, across the country. The championship game was held the evening of Tuesday, March 22 (after the Leader 's 11:30 a.m. press deadline so we'll report who became the national champion in next week's issue in the Sports Stuff column on page 7).
Rocky, which posted a 1-11 overall record in the shortened 2020-21 season, rolled through the 2021-22 regular season with a 24-4 record, which included a tight 60-56 loss to the University of Montana Lady Griz in Missoula in an exhibition game.
At the Frontier Conference Tournament the Battlin' Bears defeated Montana Tech 71-39 and Carroll College 59-56.
Rocky hosted the opening round of the 64-team NAIA national tourney on their home Fortin Center court on the RMC campus, known as Duer Quadrant. The Battlin' Bears defeated Reinhardt University of Georgia and won 63-44. The next day, on Saturday, March 12, they defeated Dakota State University of South Dakota 89-73 to advance into the sweet 16-team bracket in Sioux City, Iowa.
Held at the Tyson Events Ce...