Posted on
Things, Ideas & People . . .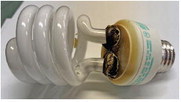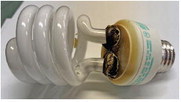 Its nickname is Speedy Creek but when looking at a map it is officially known as Swift Current, Sas katchewan, Canada. It's located roughly 110 miles north of Malta, Montana. – mike
*T*I*P*
This week the Leader may have averted another fire. Well probably not as we now have a brick build ing. But, this light bulb melted, was glowing with lit tle sparks when we happen to be in the building this weekend.
This is
the second time this type of compact fluorescent bulb has done such a thing in our building. We don't know if this is a na tional issue but we don't know what we were think ing by keeping this type bulb around. We used it as a 24 hour night light in the shop. It uses 75% less energy at 18 watts g...