Posted on
Scobey Boys' Five-Year Run At State C Comes To An End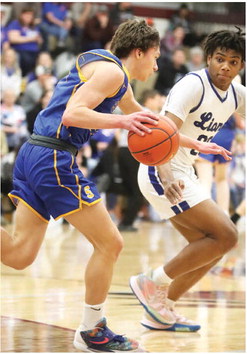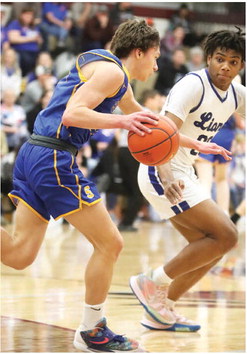 That's it. All done. The
beginning of a new era.
The Scobey High School boys' basketball program has now flipped the page of history and gets a fresh start eight months from now when the first official practice of the 2022-23 season commences.
The back-to-back Class C state championships of 2020 and 2021, the five consecutive East C Divisional Tournament titles and berths in the State C Tournament, the Montana High School Association all-class-record 57-game winning streak, the 53-game home-court winning streak from February 5, 2016 to January 15, 2022 — all now in the rearview mirror after the Lustre Christian Lions eliminated the Spartans 43-37 Friday, March 4, at officially 10:24 a.m. in a loser-out game at the East C Divisional Tournament in Sidney.
It's a fresh start for the Spartans (17-6, 1243-915, 54.0-39.7 in 2021-22) and their fans, who can re-visit the past achievements any time they please while looking forward to the upcoming campaign.
Scobey's sixth-place finish last week in the 8-team tourney began early Wednesday night in a matchup with the Richey-Lambert Fusion.
The Spartans jumped out to a 10-3 lead on field goals by, in order netted, Braxton Wolfe, Gage Hallock, Bo Anderson, Reagan Machart and Jace Bilbrey. The Fusion battled back to tie it at 15 and 17 and lead by one at the half.
By the 1:41 mark of the
third period Austin Lien's field goal put R-L on top 32- 22.
Scobey closed within
36-35 and 38-37 on a spin move and drive by Hallock and then knotted it at 40-al...