Posted on
Lady Spartans Execute Great Performance Vs. Mavericks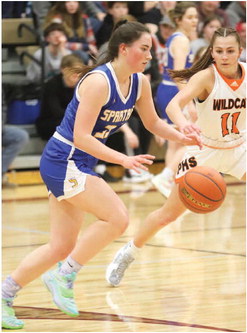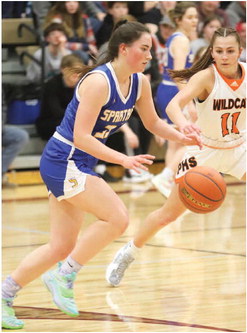 They lost the game yet it
was undoubtedly their finest performance of the entire 2021-22 girls' basketball season!
The Scobey Spartans of head coach Jedd Lekvold gave it their all against the North Country Mavericks of head coach Amber Erickson in a very tight East C Divisional Tournament challenge game played Monday night in Wolf Point.
When the fourth quarter clock struck zero it was the Saco, Whitewater and Hinsdale triumvirate celebrating a hard-fought, come-frombehind 43-36 victory.
North Country (21-2, 1198-517, 52.0-22.4) faces West C champion Twin Bridges Falcons (18-5, 1123-757, 48.8-32.9) at 12 noon in game one of today's (Thursday, March 10) State C Tournament in Great Falls (see preview on page 9).
The 7-point loss gives Scobey's returning players for the 2022-23 season something extremely positive to built upon.
When one reviews Scobey's three other performances against the Mavericks earlier in this season, it reveals just how exceptional Monday's effort truly was: a 52-17 beat-down January 7 in Hinsdale; a 59-30 shellacking February 4 in Scobey; a 59-22 whipping February 19 in Wolf Point during the District 3C Tournament championship game.
The Spartans (14-11, 916-825, 36.6-33.0 in 2021-22), wearing their blue uniforms, took the initial lead on Daisy Hersel's left-wing 3-point field goal 106 seconds into the contest. Ties at 4, 6 and 8 followed before senior Abby Willis drained a 3-pointer at the buzzer making it 11-8.
Whitewater sophomore Paige Wasson gave the Mavs their third lead early in the second quarter but a field goal by Whitley Maher and treys by Willis and Carrie Taylor put Scobey ahead 19-16 at the half.
Wasson opened the third-quarter scoring by netting her fourth field goal, a 3-ball from the right side for the game's fifth tie. Scobey eighth-grader Camrie Holum countered with a turnaround as did Wasson with a deuce making it 21-all. After Taylor made it 23-21, Holum grabbed an offensive rebound, put it back up for the make and was fouled. She sank the free throw for a 3-...