Posted on
Scobey Boys, Others Look To Move, Groove Past Redhawks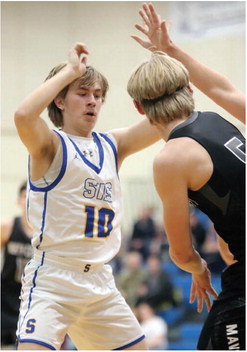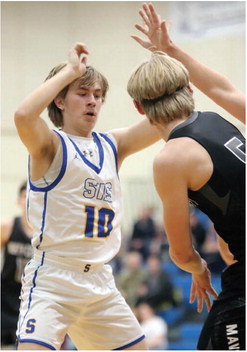 Ain't no stopping us now We're on the move Ain't no stopping us now We've found the groove McFadden & Whitehead
The Scobey boys' basketball team is hoping it is on the move to Great Falls next week as a competitor in the State C Tournament and their new-found groove isn't going away anytime soon in
the next 10 days.
After losing to the Lustre Christian Lions twice during the regular season by margins of 14 and 9 points the Spartans edged them 34-33 in the championship game of the District 3C Tournament in Wolf Point. It was a huge victory due to the fact it positioned Scobey on the opposite side of the Froid-Lake Redhawks in the 8-team bracket for this week's East C Divisional Tournament at Sidney High
School.
Froid-Lake, for the unaware, is undoubtedly the favorite going into this week's action in Richland County. The closest any team has come to grounding the Redhawks this season was the Class B Shelby Coyotes in the Shelby Tournament December 10, which was a 63-57 final score (Shelby placed third last weekend in the North B Divisional Tournament in Glasgow, earning a berth in the upcoming State B Tournament at The Brick in Bozeman).
The Plentywood Wildcats on Friday, January 7, in their home gymnasium were next closest where Froid-Lake flew south with 52-43
win. The next night in Fairview against the Warriors,
who finished second in the District 2C regular season standings, the Redhawks emerged a 51-37 winner.
Other than that Froid-Lake has hammered the competition by point spreads of, in order played, 37, 19, 28, 48, 36, 39, 19, 31, 68, 29, 32, 33, 37, 40, 41, 52 and 25!
Froid-Lake head coach Josh Stentoft (SHS '96) advanced his team into the state tourney last season after placing second to Scobey at the East C Divisional gathering. A few miscues by the Redhawks on the court late in the fourth quarter let the Fort Benton Longhorns hang around and the latter ended up winning 46-39 in one overtime. Froid-Lake bounced back with a 66-41 win over the Bridger Scouts in Friday's loser-out contest but lost 56-51 to a solid Manhattan Christian team in early Saturday action.
Don't kid yourself, that nasty taste is still lingering among the Redhawks an entire year later, despite the fact these same athletes recently captured their second ...