Posted on
Scobey Girls Look To Ground Cowgirls In First Round Game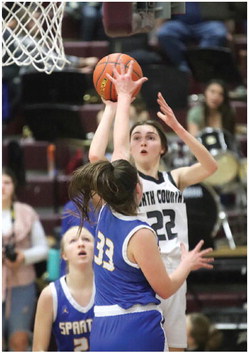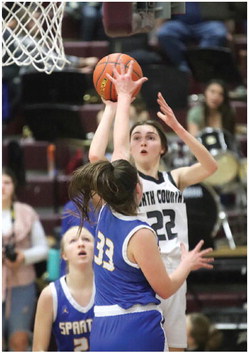 The Scobey Spartans placed second at the District 3C Girls' Basketball Tournament last week in Wolf Point and are looking for a repeat performance or better at next week's East C Divisional Tournament in Sid-
ney.
Simply put, they'll have to play a near-perfect game against either the North Country Mavericks (181, 996-398, 52.4-20.9) or Plentywood Wildcats (19-1, 1183-508, 59.1-25.4) somewhere along the bracket to do so as those two squads are undoubtedly the East C
toughs.
First, however, they need to find a way to get by the Culbertson Cowgirls (164, 856-657, 42.8-32.8) who placed third at the District 2C Tournament last week in Sidney. The two square off Thursday, March 3, at 1:30 p.m. in the East C gathering at Sidney High School.
Scobey (11-9, 740-648, 37.0-32.4), after receiving a first-round bye in the District 3C Tournament in Wolf Point, played the Nashua Porcu...