Posted on
Scobey Boys Better Lions By One Point To Claim 3C Title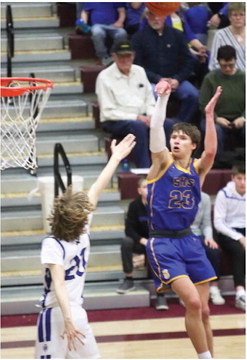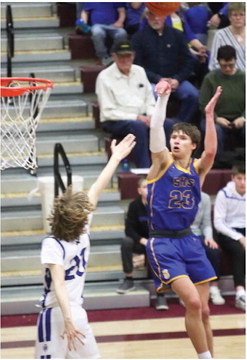 The Scobey Spartans captured their seventh consecutive District 3C Boys' Basketball Tournament championship in dramatic fashion Saturday night in Wolf Point with a 34-33 victory over the top-seeded
Lustre Christian Lions.
It was the Lions who ended the Spartans' Montana High School Association all-class record of 57 consecutive wins December 21 in Lustre with a 47-33
victory.
They met again January 25 in Scobey where the Lions roared with a 54-45 win. It put them in the driver's seat to capture the District 3C conference championship and the number one seed in last week's tourney.
Perhaps the two will conduct round four next week in the Sidney High School gymnasium, home of the East C Divisional
Tournament March 2-4.
Scobey (16-4, 1087-784, 54.3-39.2) faces the Richey-Lambert Fusion (13-8, 1035-989, 49.2-47.0) Wednesday, March 2, at 6 p.m. Lustre Christian (18-1, 1222-611, 64.3-32.1) plays the Bainville Bulldogs (148, 1237-1103, 56.2-50.1) the
same day at 4:30 p.m.
The Lions took a 4-0 lead on Scobey and when Jasiah Hambira beat the buz...