Posted on
Spartans Handle Porcupines, Wolves To Finish Reg Season Meet Frazer or Nashua In Tourney Semifinals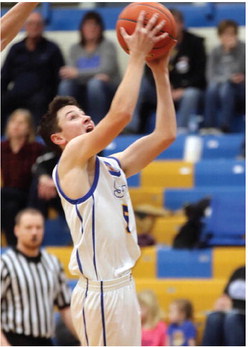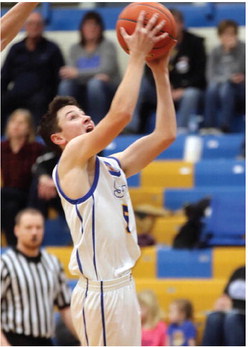 The 2021-22 regular season for the Scobey boys' varsity basketball team couldn't have ended in any better fashion than it did last Saturday night in the Wolves' Den Gym at Wolf Point High School. It was against a worthy opponent, it was a slim win, and it was on the court where its next
game is set be played!
The Spartans (8-2 3C, 14-4 overall, 997-722, 55.340.1) are the number-twoseeded team in this week's District 3C Tournament in the aforementioned Wolves' Den, one notch below the conference champion Lustre Christian Lions (10-0, 17-0, 1,132-557, 66.5-32.7). Both squads received first-round byes and await the winners of Wednesday, February 16, first-round action. The Lions, on the upper side of the bracket, face the winner of the 6th-seeded Nashua Porcupines (1-9, 2-16, 641-1030, 35.6-57.2) and 4th-seeded North Country Mavericks (4-6, 4-13, 636-967, 37.4-56.8), who were scheduled to tip off at 3 p.m. Wednesday. The first semifinal is set for 3 p.m. today
(Thurs., Feb. 17).
On the bottom half of the bracket Scobey awaits the winner of the 3rd-seeded Dodson Coyotes (5-5, 7-11, 948-1200, 52.6-66.6) versus the 5th-seeded Frazer Bearcubs (2-8, 2-16, 636-1320, 35.3-73.3), who were set to do battle at 4:30 p.m...