Posted on
Scobey Boys Avenge 34-Point Loss To Scots With Slim Win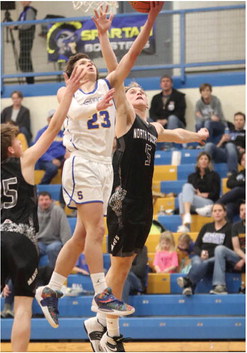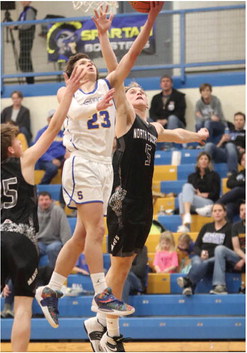 End Regular Season In Nashua, Wolf Point
The Scobey Spartans made amends of the 60-26 shellacking it absorbed against the visiting Glasgow Scotties 16 days prior with a slim 45-42 win last Saturday night on the Class B team's
home court.
Coupled with conference- game victories against Dodson and North Country the two nights prior, the Spartans take a 12-4 overall record into the final weekend of the regular season. Scobey travels to Nashua (2-14, 582-918, 36.3-57.3) Friday and Wolf Point (12-4, 945-841, 59.0-52.5) Saturday.
The 34-point loss to the Scotties in Scobey Thursday, January 20, was one of the most lopsided losses the Spartans have experienced in a looooooong time and they were ready to turn things around Saturday
night.
Tipping off at 7:22 p.m., Scobey took a 4-0 lead on Gage Hallock and Reagan Machart baskets before Glasgow came back to tie it at 4-all. Hudson Kjos made it 7-4 on a 3-point field goal and by the 2-minute mark of the second period, when Hallock sank a pair of free throws, the Spartans had their largest lead of the con...