Posted on
Are Scobey And MonDak Girls Destined To Collide Once Again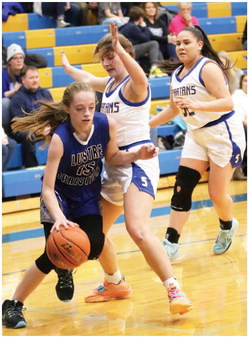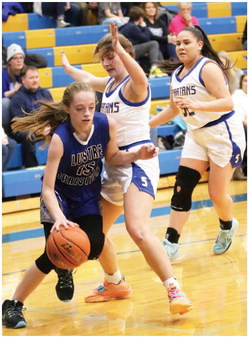 Some how, some way it seems like a good bet the Scobey Spartans and Mon-Dak Thunder have not seen the last of each other on a basketball court during this 2021-22 girls' hoop season.
They played each other in Scobey December 17 and the Thunder prevailed 43-
20.
Last Friday in Westby was round two and the Spartans managed to go from a 23-point margin in the first
go-round down to a 9-point
final difference of 35-26 MonDak, which in any math class is a 14-point improvement. Providing both advance out of their respective upcoming district tournaments — bet on it with the Thunder in the 2C at Sidney and the Spartans in the 3C at the Wolves' Den Gym — these two are on a collision course to meet again and there would be plenty on the line.
There wasn't a whole lot on the line last Friday except pride, and the Spartans proved they have some.
Two-point field goals by Kiarra Brunelle and Sayler Stewart followed by a 3-pointer by Elizabeth Field made it 7-zip very quickly, which by this time Scobey was 0-for-4 from the free th...