Posted on
Scobey Footballers Finish Plus-22 In Turnover Ratio During 2021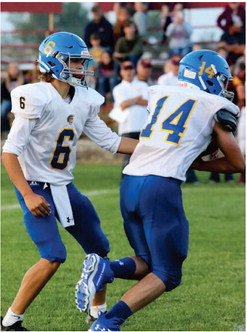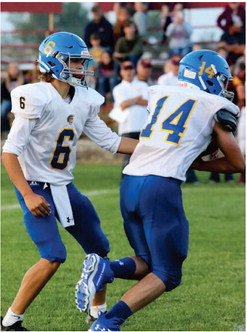 The Scobey football team put together another successful season in 2021 by posting a 7-2 overall record and reaching the quarterfinal round of the playoffs before it came to an end.
The team scored 384 points for a 42.6 per game average and allowed 177 points on defense for a 19.6 average.
The season began in Circle on Friday, August 27, which was a beautiful night for football weatherwise and score-wise as the Spartans prevailed over the Wildcats 44-0. Next was an impressive 56-20 victory over the Fairview Warriors on Scobey's Plainsmen Field and followed by a hardfought 28-15 win against the Plentywood Wildcats on Lincoln Field. Week four saw the Spartans lose 26-22 on C Bar C Field to the Culbertson Cowboys followed by a home win against the Carter County (Ekalaka) Bulldogs 54-24. The final game of the regular season had Scobey rounding up the Forsyth Dogies 66-6 on the Plainsmen turf.
In an East C inter-division seeding game, also in Scobey, the Blue and Gold prevailed 34-30 after trailing 30-20 at halftime.
The Spartans traveled to Simms for a first-round playoff game and tamed the Tigers 60-24.
The season came to a halt Saturday, November 6, in Park City where the hostin...