Posted on
Scobey's Football Season Ends On Emotional Day In Park City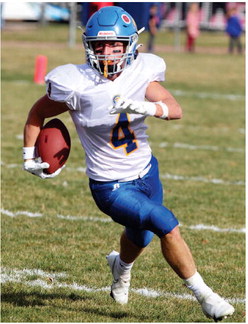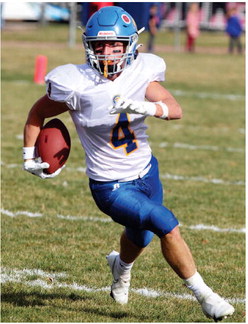 The quarterfinal playoff football game between the Scobey Spartans and host Park City Panthers Saturday, November 6, was a close contest in many statistical ways but the bottom line was the host tallied five
touchdowns and the visitor
only three in a 32-20 final.
In front of an audience somewhere in the 400-500 range, perhaps even a little bit more as many Scobey ex-pats from the Billings area showed up, the Panthers found a way to get through an extremely emotional
game.
On All Saints Day, Mon-
day, November 1, 15-yearold Park City sophomore Jed Hoffman, a 6-foot, 170-pound wide receiver/ linebacker for the Panthers, died in a Billings hospital.
Six days prior he collapsed on the football field during practice. As of game day there was still no cause of death reported.
So it was an extremely mentally tough week for the Park City community as a whole but Hoffman's teammates, all two dozen of them, still knew they had to go out and win it for Jed, number 17 in the 4-page, game-day program. Both the Panthers and Spartans wore black and red number 17 stickers on their helmets.
As noted, statistically, the 12-point final margin being the exception, things were pretty much even.
Each team punted just once, with both kicks covering 21 yards. Each had only one penalty, a facemasking call on the home team and a roughing the kicker on the Spartans. Third-down, fourth-down and point after touchdown conversions were all in the same neighborhood.
Park City had 310 yards of total offense and Scobey 275. The Panthers rushed the ball 30 times for 88 yards for a 2.9 average while the Spartans had 196 yards on 48 carries for a 4.1 average. Park City went an outstanding 17-of-22 ...