Posted on
Simms Tigers 'A Tough, Physical Bunch, Very Hard-Nosed Crew'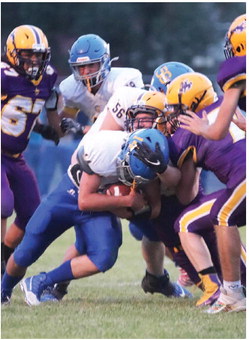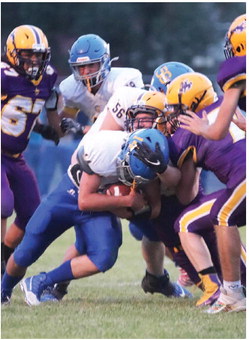 The 2021 Montana High School Association football playoffs are set in stone and the Scobey Spartans are in on the hunt for a Class C 8-Player state championship.
The local "ball" team heads west this week for a firstround playoff game in Simms against the home-town Tigers with the opening kickoff on Saturday, October 30, set for 1 p.m. (Radio: KCGM 95.7 FM. Internet streaming: nfhsnetwork.com).
Simms (7-1, 374-185, 46.7-23.1) ran off seven straight victories to start the season, defeating in order played: Lone Peak 38-14, Broadus 57-15, Shelby 64-28, Chester-Joplin-Inverness 31-22, Harlem-Turner 84-18, Chinook 34-24 and Fort Benton 41-29. The latter was a meaningless game in the sense both teams had already wrapped up top-seed playoff berths in their North C Division subconferences. Fort Benton led 22-16 at halftime and received the opening kickoff of the second half and marched down the field for a 29-16 lead. The Longhorns' starting defense didn't allow the Tigers to score on their initial possession of the second half. At that point Fort Benton head coach Jory Thompson decided with seven minutes remaining in the third quarter to pull all his starters on both sides of the ball to avoid any injuries and go with his second stingers the rest of the way on offense, defense and special teams. The Tigers rallied with their starters still in and won by a dozen points. The next week on Longhorn Field in Fort Benton, in the rematch with Simms for the top seed in the North Division during Interdivision playoffs, the home team emerged a 35-25 winner.
"They are a tough, physical bunch," said Belt Huskies head coach Jeff Graham of the Tigers, whose team plays in Culbertson Saturday. "A very hard-nosed crew."
Coached by Jay Fredrickson, the top offensive threat for Simms is running back Mike Leach, who is listed at 165 pounds but "runs hard," said Coach Graham. In addition, Simms has...