Posted on
Scobey Cross Country Teams Continue To Finish Higher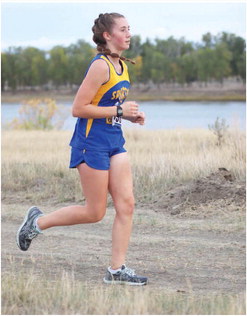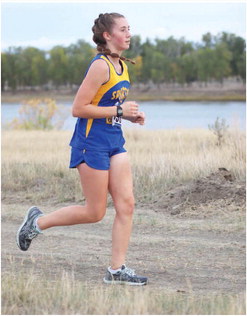 Girls Place
The Scobey High School girls' cross country team is getting closer, much closer, to something big.
In 2020 at Rebecca Farm near Kalispell the Lady Spartans scored 74 points to place seventh in the state meet, a nice showing indeed considering the program is only three seasons back into the sport after discontinuing
it in the late 1970s.
On Saturday, October 23, at the 58th annual State Cross Country Championships in Missoula the Scobey gals upped their game by finishing fourth with 68 points and nary a senior nor junior to be found on the roster!
They're young, hungry and coming at the competition strong.
Held on the University of Montana Golf Course, which featured gradual inclines and declines plus one steep hill along the bottom of the mountain, the weather was perfect. It was 49 degrees, humidity at 57 percent and a wind speed of 3 miles per hour at 2:45 p.m. when the starting gun fired
to begin the Class C girls race, the final of eight on the day.
"It was an ideal running temperature," said Scobey co-head coach Betsy Kilgore.
"The course was beautiful and not having snow on the ground really helped," said co-head coach Jamie Green. "It helped a lot," referring to the past two all-class state finals held in Kalispell (2020) and Great Falls (2019) where the white stuff made its presence known to the hundreds of harriers.
Individual Class C defending state champion, Belt senior Lindsey Paulson, completed the repeat in 19:00.88. Plentywood junior Annie Kaul came in second in 19:56.70 and Sc obey freshman Mya Green was third in 19:59.61.
The game plan set up by the coac...