Posted on
Spartans Call On Their King To Get Job Done Against Wildcats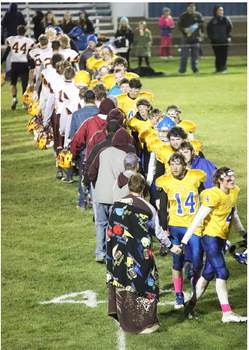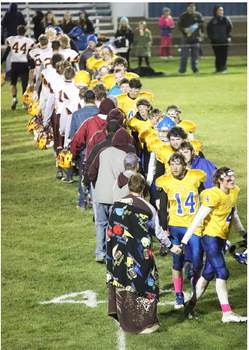 Scobey Travels To Simms For 1st Round Game
Who are you going to call on?
The king, of course!
Twenty-one days after being crowned Scobey Homecoming King, senior Colter Oie became the team's go-to guy when trailing a fiesty Circle Wildcats team 30-28 with under four minutes to play in an East C Inter-Division Playoff
Game.
Held Thursday, October 14, on Scobey's Plainsmen, Oie packed the pigskin on seven consecutive plays putting his team in position to tally the go-ahead score in an eventual 34-30 victory.
The impressive comefrom- behind win has the Spartans (6-1, 304-121, 43.4-17.2) traveling to play the Simms Tigers (7-1, 374185, 46.7-23.1) Saturday, October 30, in a first-round playoff game kicking off at
1 p.m.
Other playoff games involving East C teams the same weekend include: North 4th Chinook Sugarbeeters (7-1, 372-137, 46.517.1) at East 1st Fairview (6-2, 334-199, 41.7-24.8); North 3rd Belt Huskies (71, 384-175, 48.0-21.8) at East 2nd Culbertson (6-1, 275-106, 43.5-17.6); the winner of tonight's (Thursday, October 21, 7 p.m.) Plentywood (5-2, 265-104, 37.8-14.8) at Circle (4-4, 266-248, 33.2-31.0) game will play at North 1st Fort Benton Longhorns (6-1, 312-168, 44.5-24.0) while the loser travels to West 1st, which would be either the Flint Creek (Drummond, Philipsburg) Titans or Thompson Falls Blue Hawks, both of which have
yet to lose this season. Circle, which led Scobbey 30-20 at halftime in its
Subconference A at Subconference B matchup, began its second-to-last possession with 9:30 remaining in the contest and ahead by two points. Rushes of 7, 9, 3, 9 and 3 yards and a 10-yard penalty on the Spartans at the 7:01 mark had the Wildcats with a first down at the Scobey 24 and getting close to making it a two-possession game.
A 10-yard penalty for a fresh four downs must have been the wake-up call for the Scobey defense because it came alive!
Senior lineman Josh Hammerly made a solo tackle for a gain of zero yards on first down while he and junior Tucker Aanstad teamed up for a quarterback sack for minus-3 yards. After a pass gained three yards defensive back Boen Tande batted down a pass attempt and the Spartans had po...