Posted on
Pretty-In-Pink Spartans Spear Warriors 3-To-1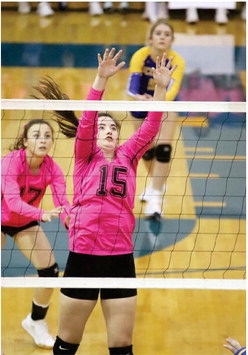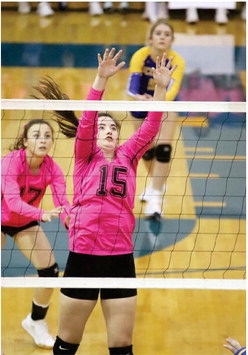 They might have lost a close one in Medicine Lake and ended the week with a not-so-close one in Frazer but the Scobey Spartans won the one they had to win.
After all, it was Senior Night in the Scobey large gymnasium and their parents and siblings were in the bleachers watching every block, bump and bat of the ball. Plus it was pack the house pink night so how could they lose?
They didn't!
With the first serve in the air at 4:43 p.m. on Friday, October 15, against the visiting Fairview Warriors, sixth in the District 1C conference standings at the time, the Spartans sped to a double-digit lead at 19-9.
The Warriors closed within 20-13 but Scobey rallied with a 5-0 run to finish game one. Whitley Maher tallied a kill, Sophia Handran a block for point, the Warriors committed a net violat...