Posted on
Sub-Conference Lead Up For Grabs Saturday In Culbertson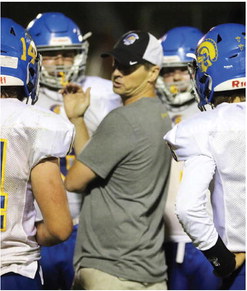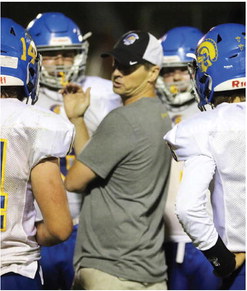 SCOBEY HEAD COACH BROCK BERRYHILL discusses strategy with players, from left, Colter Oie, Philip Haynes, Josh Hammerly and Boen Tande during Friday night's game in Plentywood. The Spartans remained un defeated with a hard-fought 28-15 victory over the Wild cats. - Leader Photo, mike
Spartans, Cowboys Have 3-0 Records
The Scobey Spartans remain an undefeated football team following a hardfought 28-15 victory Friday against the Plentywood Wildcats.
What was the key while playing under the lights of Plentywood's Lincoln Field?
A dominating defensive effort in the first half!
The Wildcats rushed the ball 13 times in the first 24 minutes for only 9 yards, which is an average of just over two feet per carry. On five of those totes six different Spartans were in on a tackle for lost yardage.
Junior defensive back Boen Tande started it on Plentywood's third play of the contest for a one-yard loss. On the very next play seniors Josh Hammerly and Colter Oie and sophomore Gage Hallock dropped the ball carrier for a 2-yard loss and the Wildcats punted one play later.
On their next defensive series the Spartans used a Hallock tackle for loss creating a 2nd-and-11 from Plentywood's 35, with junior Owen Fishell intercepting a long pass on the next play.
On the Wildcats' third offensive possession starting early in the second quarter, senior Cole Taylor produced back-to-back tackles for loss on first down (-3 yards) and second down (-1) and one incomplete pass later Plentywood punted for the second time.
On the Cats' fourth drive senior Gage Southland dropped a ball carrier for a 5-yard loss making it 3rdand- 15 from Plentywood's 10-yard line forcing a punt.
While all that was occurring the Wildcats went 0-for-6 in the passing department to have just 9 total offensive yards and 2 first downs at halftime. Meanwhile, the Spartans (3-0, 128-35, 42.6-11.6) scored touchdowns on 2-of-6 possessions in the first half and converted on both for a 16-0 advantage at the half.
After being forced to punt on 4th-and-7 from its own 35-yard line on its initial possession, Scobey fashioned a...