Posted on
Fr. Kumar Is New Priest For The Area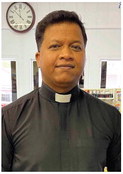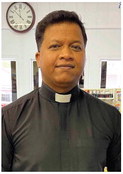 FatherArumugamAnanda Kumar, 41, now has several weeks of service in northeast Montana after moving to serve congregations at St. Philip Bonitus in Scobey, St. Joseph in Plentywood and St. Patrick in Medicine Lake. He started July 1st succeeding Fr. Pat Zabrocki who was here for twelve years.
Father Kumar comes to this area with thirteen years experience in the priesthood. He came here from Forsyth, Montana serving churches in Forsyth, Hysham and Colstrip for the past six and a half years. He remarked they were very active and helpful communities.
Those communities were very accommodating and workedwithhimashelearned ...