Posted on
Hoop Coach Keller Continues To Be One Of 'Best Of Bunch'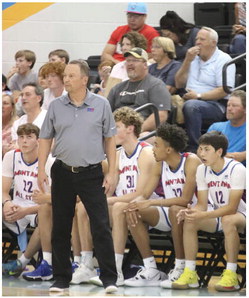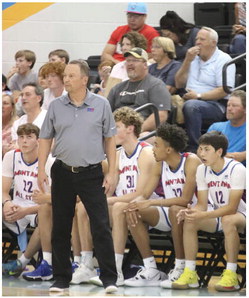 Has A Lifetime .733 Winning Percentage
Steve Keller has been the "best one of the bunch" numerous times as a basketball coach in his native state of Montana.
He has won six state championships with high school girls as a head coach, has won one state championship with high school boys as an assistant coach, and these days is trying to win a national championship with young men in college.
The Daniels County Lead er caught up with Coach Keller the night of Friday, June 11, outside the lockerroom in the Golden Dome at Sheridan Community College in Sheridan, Wyoming. His Montana boys' team had just defeated Wyoming 109-104 in the 45th annual Montana-Wyoming All-Star Series. The next night at Lockwood High School in Billings his Big Sky boys scored a 110-71 victory, giving Keller an 18-0 record as Montana's head coach in the series.
The best way to tell the story of Coach Steve Keller is to simply start from the beginning and work our way up in chronological order.
He grew up on a farm/ ranch outside of Custer, Montana, which is 50 miles east of Billings along Interstate 94. His days started at 5:30 a.m. and worked until 8:30 p.m. After dark at the ranch he would point a flashlight onto the basketball net and worked on his game, having to account for the wind on some of those occasions. Somewhere along the way in grade school he knew he wanted to someday coach basketball.
First things first, however, which meant playing in actual games for the Class C Custer Cougars.
By the time he graduated in 1974 his name and statistical accomplishments were littered throughout the Montana High School Association record book (online these days at mhsa.org). His quickness, toughness and determination vaulted him into the top 10 as a player in 10 categories:
• most free throws attempted in a career, 879, 1971-74, 1st all-time;
• most free throws attempted in a game, 33, 1973, 1st;
• most free throws made in a career, 617, 1971-74, 1st;
• most free throws made in a season, 224, 1973, 1st;
• most free throws made in a game, 24, 1973, 1st; • most field goals attempted in a game, 36, 1974, 3rd; • most field goals made in a career, 794, 1971-74, 5th;
• most points per game average in a career, 21.5, 1971-74, 7th (this was in pre 3-point field goal days!); • most field goals made in a game, 22, 1973, 8th;
• most points scored in a career, 2206, 1971-74, 10th.
Following graduation from Custer High School Keller attended Rocky Mountain College in Billings and played not basketball for the Battlin' Bears but baseball, doing so from 1975-78 under longtime Rocky professor and coach C.R. Stiffler. His work in the classroom earned him a Bachelor of Science degree in history (and later received his master's degree from Northern Montana College in Havre).
At this point it was time to get a job to earn a paycheck and the northeast Montana community of Opheim was the landing spot in the summer of '78.
In addition to his teaching duties, the 22-year-old Keller became the assistant coach for the girls'and boys'basketball programs under head coach Loren Baker.
The Lady Vikings lost 23-21 to Nashua in the East C Divisional Tournament championship game but still qualified for the State C Tournament in Lewistown, which began on Thursday, November 30 (back in those days the girls played hoops in the late summer/fall months and the boys played in the late fall/winter months, which changed in 2002 when the two seasons were combined creating the present format).
In 1979 the Opheim girls became East C Divisional champions following a 44-33 win over Medicine Lake to qualify for the State C, once again held in Lewistown, but they did not earn a trophy.
In 1980 Baker moved on to coach hoops at Northern Montana College in Havre and Keller moved into the head coaching positions for both the Opheim girls' and boys' programs.
"Opheim was the perfect place to start my coaching career," Keller said outside the lockerroom in Sheridan 10 weeks ago. "Working ...