Posted on
GeoCache It If You Can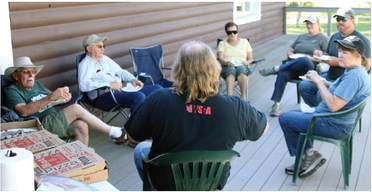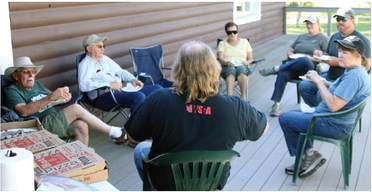 It doesn't matter if it is minus 15 degrees Farenheit accompanied by a 10-mile per hour wind - that's 38 below wind chill factor! - with a foot of snow on the ground in January, a 93-degree afternoon in July with no wind and 100 percent sunshine, or something in between, a person can always be geocaching.
What is geocaching?
Simply put, it's someone hiding something big or small or in between, publishing the coordinance on a Global Positioning System (GPS) and allowing others to discover it, earning a "find", and then leaving it to be found by someone else who comes along looking for it.
In other words, it's the game of hide and seek with GPS.
"There are so many challenges in this game," said Steve Schwindt of Sidney, Montana.
He, along with some other geocachers, were in Scobey July 27, 2020, meeting on the front porch of the Scobey Saddle Club. The quick get-together hosted by Scobey's Fitch Hons featured hot Pondy pizzas, cold water, plenty of talk about geocaching, and finally, some actual geocaching around Daniels County.
In addition to Hons and Schwindt, also present were Steve's wife Regina Schwindt, Chad Thome and Tina Thome of Great Falls, Tina being Steve and Regina's daughter, and Wendy Marsh and Derik Reed, both of Helena.
"A good friend and classmat...