Posted on
Things, Ideas & People . . .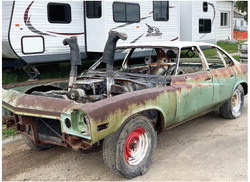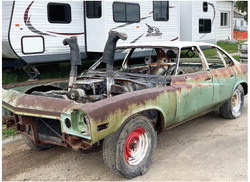 Goloshes apparently have more uses than to keep your feet dry! These big overshoes are keeping water out of the exhaust pipes of this derby car being prepared by the Girard demolition derby crew in Scobey.
Several derby cars are beginning to surface as it is fast becoming derby season in this corner of the state. The Annual Demolition Derby at the Daniels County Fair is set for the last night of the fair, Sunday, July 18th. This baby looks ready for paint.