Posted on
From Page Six opened the ….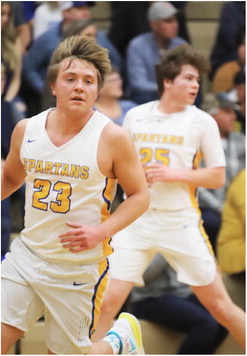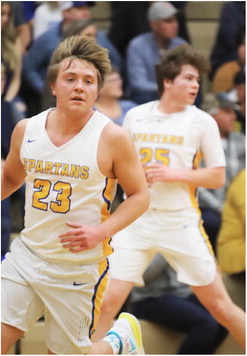 From Page Six
opened the scoring with a right-side trey, netted two more in the middle of the quarter for 16-6 and 19-6 leads and capped the quarter with another creating a 27-12 advantage. He opened the scoring of the second period with a long bomb a couple of feet behind the arc for an 18-point lead, hitting 5-of-6 long bombs in the initial 9 minutes of the contest.
Tande took over in the second frame by scoring 13 points on a trio of treys, an offensive-rebound putback and a couple of free throws.
By halftime, where Scobey's 2-3 zone defense kept the Coyotes away from the bucket, it was 47-15 and the Spartans had a lowly 2 turnovers.
Cromwell opened the second-half scoring with his sixth and final 3-pointer, Fishell was filling the hoop for 9-point third quarter and Tande hit his fourth trey plus put the 40-point continuous clock in motion when making it 59-19 midway through the period.
When this one was over the Spartans had hit 27-of-48 total field goals for 56.2 percent, 11 -of-20 being 3-pointers, and 5-of-8 free thr...