Posted on
Scobey Captures 6th Straight District 3C Tournament Title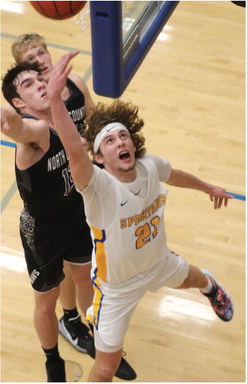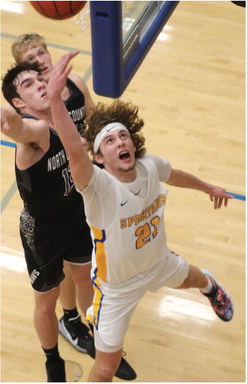 Things are about to get much more tougher for the Scobey boys' basketball team next week when the East C Divisional Tournament opens for business in the Sidney High School gymnasium.
The annual shift for the surviving teams of the district tournaments to the divisional event always has the competition becoming much stronger and the intensity growing to a much higher level.
The Spartans (1st, 3C: 20-0, 1392-613, 69.6-30.6) open the four-day event on Wednesday, March 3, at 1 p.m. against the Richey-Lambert Fusion (4th, 2C: 8-7, 799-707, 53.2-47.1). Following is the Dodson Coyotes (3rd, 3C: 11-3, 718-594, 51.2-42.4) against the MonDak Thunder of Westby, Montana and Grenora, North Dakota (2nd, 2C: 11-6, 720-767, 42.3-45.1) at 3:30 p.m.
The lower end of the first-round bracket begins play on Thursday, March 4, when the Froid-Lake Redhawks (1st, 2C: 18-2, 1227-656, 61.3-32.8) meet the Plentywood Wildcats (5th, 2C: 6-13, 947-1000, 49.8-52.6) at 9 a.m. and the Fairview Warriors (3rd, 2C: 11-3, 788-603, 56.2-43.0) face the North Country Mavericks (2nd, 3C: 12-7, 949-843,49.9-44.3) of the Saco, Whitewater and Hinsdale communities at 11 a.m.
Saturday's consolation contest is scheduled for 3 p.m. and the championship 7:30 p.m. See the Banjo's Club 109-sponsored bracket elsewhere in this issue and listen live to all the games on Scobey radio station KCGM 95.7 FM.
The Spartans caught the Wednesday 1 p.m. time slot as opposed to the Thursday 11 a.m. tip-off by taking care of business last Saturday night against the North Country Mavericks. The two met in the championship game of the District 3C Tournament at Malta H...