Posted on
Lady Spartans Begin Playoff ….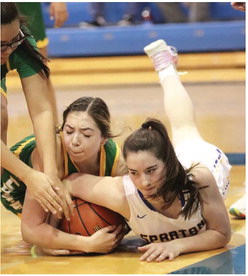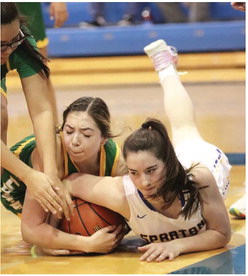 Lady Spartans
Begin Playoff
Run Today At 3
The Scobey girls' basketball team shifts into post season mode this week in its quest to qualify for a third consecutive State C Tournament, which earlier this week shifted from Bozeman to Billings. Job number one for the Spartans is securing a victory today (Thursday, February 18) in a 3 p.m. semifinal at the District 3C Tournament in Malta, where they meet the winner of Tuesday night's Frazer at Dodson first-round game. A semifinal victory would put them in Saturday's championship game scheduled for 5:30 p.m., but more importantly would secure a berth in the East C Divisional Tournament in Sidney March 3-6. A top two finish there would have Scobey bound for Billings and Lockwood High School, the new site of this season's State C tourney as of Friday, February 12.
Top-seeded North Country of the Saco, Whitewater and Hinsdale communities has the bye on the upper end of the bracket and meets the Nashua at Lustre Christian winner, who met Tuesday night. The entire bracket can be seen elsewhere in this issue.
Here's a look at the final regular season standings heading into the District 3C Tournament: North Country (9-0, 16-0, 952-435, 59.5-27.1), Scobey (7-2, 15-3, 816-498, 45.3-27.6), Dodson (4-4, 4-7, 459-568, 41.7-51.6), Lustre Christian (4-5, 5-6, 427-516, 38.8-46.9), Nashua (1-5, 2-6, 293-425, 36.6-53.1), Frazer (0-9, 0-14, 257-834, 18.3- 59.5). The Spartans opened the final week of the compacted 6-week regular season against the Froid-Lake Redhawks in M...