Posted on
Defense Of Co-State Title Starts With 3C Tournament in Malta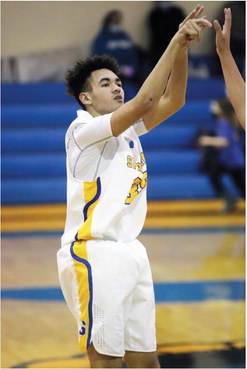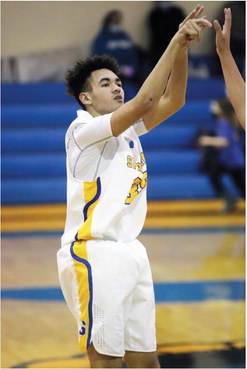 Change was in the arctic air last week as the Montana High School Association's 2020-21 boys' basketball season shifted late Saturday night from the abnormal 6-week regular season to the hopefully normal 4-week post season. The biggest change was announced the morning of Friday, February 12. The combined girls and boys State C Tournament originally scheduled on the campus of Montana State University in Bozeman is now headed east to Billings, to be held at the new Lockwood High School March 10-13.
The only thing not changing was Scobey's winning ways, closing out the reg season with three more victories and a winning streak reaching 46 straight dating back to March 2019 at the State C in Billings.
Up next for the Spartans (18-0, 1263-554, 70.1-30.7) is the District 3C Tournament at Malta High School this week (see Banjo's Club 109 tourney bracket elsewhere in this issue for more information). The top-seeded Spartans receive a first-round bye and are scheduled to play the winner of Tuesday's Nashua at Lustre Christian game in the semifinals Thursday, February 18, at 5:30 p.m. in Malta. The top three finishers will advance to the East C Divisional Tournament in Sidney March 3-6, and from there the top two teams will be loading up their buses for Billings.
Scobey's week-six schedule began Tuesday, February 9, in Medicine Lake against the District 2C-leading and extremely tough Froid-Lake Redhawks (15-2, 1040-564, 61.1-33.1). It was the rematch of the quickly-put-together January 21 game in Scobey, where the Spartans avoided overtime when a 3-point field goal attempt bounced off the back of the rim at the final buzzer giving Scobey a 57-54 win. The boys in blue and gold had to play an extra 4 minutes this time around as the contest was everything everyone expected it to be — closerthanthis!
The statewide topranked Spartans trailed the 4th-ranked Redhawks the entire first quarter and half of the second period when 6-foot-3 junior Tyler Wivholm's field goal had the 'Hawks flying high with a 21-12 lead. Scobey began chipping away at it, however, starting with Reagan Machart taking in a long pass for a transition bucket at the 2:42 mark. Caden Handran netted a turnaround jumper a minute later cutting the lead to 21-16, forcing the Redhawks to burn a timeout and slow down Scobey's new-found momentum. The Spartan...