Posted on
No. 1 Spartans Host DodsonAnd North Country In Key Contests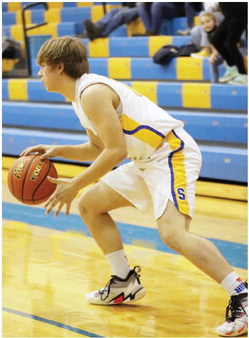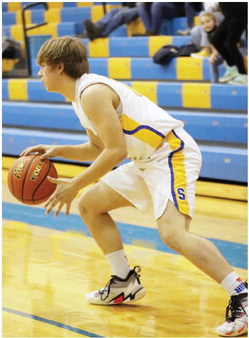 Conference Championship Is On The Line!
It was two more nights at the office for the Scobey varsity boys' basketball team and, to put it simply, they found another way to lessen their workload.
Forty-nine and 34-point victory margins over the Frazer Bearcubs away and the MonDak Thunder at home say so, giving the Spartans a 39-game winning streak heading into this week's action, which include a couple of very big District 3C games.
The Spartans (11-0, 788-349, 71.6-31.7), who traveled to Lustre Christian (3-3, 305-280, 50.8-46.6) High School Tuesday, February 2, for a conference match, entered their first and only four-games-in-five-days week of this regular season. Tonight (Thursday, February 4) the Spartans travel to Glasgow to play the Class B Scotties (5-4, 467-517, 51.8-57.4) in an 8 p.m. scheduled tip-off.
The heat gets turned up on Friday, February 5, and Saturday, February 6, when the Spartans host the Dodson Coyotes (6-0, 295-183, 49.1-30.5) and North Country Mavericks (6-4, 458-431, 45.8-43.1), respectively, in two key District 3C matchups. Put another way, the conference championship is on the line, particularly against Dodson since the two will only play once in the regular season. It appears the January 23 matchup in Dodson most likely would not be made up somewhere between now and the start of the District 3C Tournament in Malta February 17-20, but that could change.
Don't even think about the North Country game Saturday night being just another walk in the proverbial park for the Spartans, as nobody has played the blue and gold closer than the Mavericks in 3C action, which was a 60-44 Scobey victory January 8 in Hinsdale. At one point early in the fourth quarter the Mavs were behind by just 41-33 before the Spartans whipped up a 19-0 run to create the 60-44 final.
Put another way, it's not the most opport...