Posted on
Girls Have Won Four ….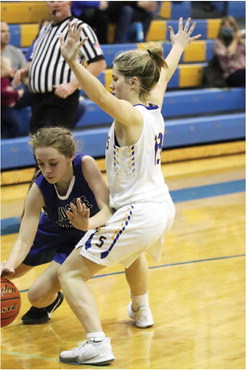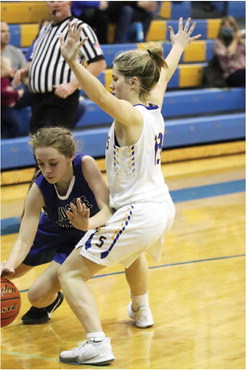 Girls Have Won
Four In A Row
Since First Loss
After losing their second game of the season to the mighty tough North Country Mavericks in the Hinsdale High School gymnasium, the Scobey varsity girls' basketball team has strung together a 4-game winning streak. The latest "W" occurred on home turf Saturday, January 16, when overcoming an early 10-point deficit to the Class B Wolf Point Wolves in non-conference action.
After Gracee Lekvold's 3-point field goal made it 3-all and Taylor Leischner's free throw made it 4-3, the Wolves of new head coach Jon Kolstad used some pressure defense to create some steals turning into points. It was enough to trigger an 11-0 scoring run for a 14-4 advantage.
The Spartans, however, began chipping away at the deficit, starting with Ryleigh Backman's field goal at the 2:38 mark. Forty-two seconds later Whitley Maher's 3-point field goal cut the lead in half, which was followed by Lekvold's two free throws at the 51-second mark and another freebie just before the quarter break to be down by 15-12.
Karys Lamb kissed a field goal off the glass early in the second quarter to pull within one and Carrie Taylor's basket at the 7:10 mark regained the lead for good for the Spartans.
Scobey led by as much as six points on two occasions in the third but it was still a 4-point difference heading into the final eight minutes of action. Lekvold and Lamb provided the daggers in the first half of the fourth q...