Posted on
From Page Six 15, Jayce ….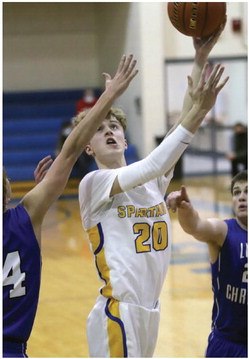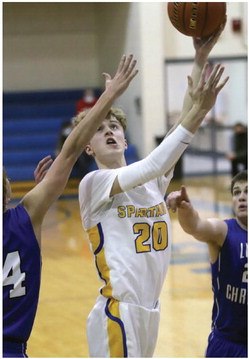 From Page Six
15, Jayce Tande tallied 17 points and Cromwell 10 to join the double-digit club with Booth and Handran coming close with 8 each.
Of the 13 Spartans who suited up, all of which saw action, eight scored.
Saturday's non-conference home date against the Class B Wolf Point Wolves followed the week-two template, which was shoot out to a big lead in a little amount of time. By the 5:14 mark of the first frame it was 8-0 as Machart scored first followed by Fishell's offensive rebound putback,
Cromwell's field goal and Handran's bucket off a turnover.
After Kjos opened the fourth period with a field goal making it 63-24, Hallock converted a 3-point play to get the continuous clock rolling. This time
9-of-13 Spartans found their way into the scoring column, with Handran leading the way with 18.
Lustre Christian (32) at Scobey (68), Tues., Jan. 12 — Scobey: Jayce ...