Posted on
Four Buttes (Whiskey Buttes)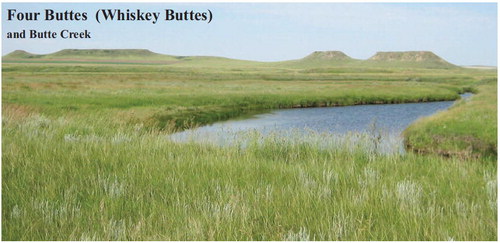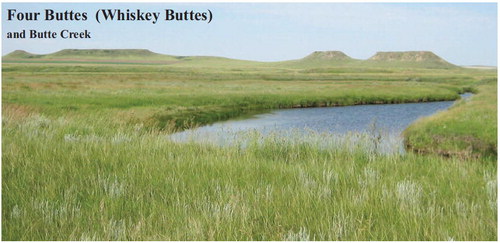 (Community Development Block Grants).
FLAXVILLE LUTHERAN CHURCH 1956 – The Church enlarged the size of the building, plumbing and restrooms were added and kitchen remodeled. In the early 1970's, downstairs was carpeted, upstairs painted and new carpets installed.
1977 – New parsonage was purchased. Old parsonage was sold to Monica Martin and now sits on C-street of Scobey.
Early 2000's the Parsonage was sold.
Pastor Charles Kelly has taken the call to serve Zion Lutheran Church and Pleasant Prairie, rotating Sunday's to serve the congregation to present day.
ST. ANN'S CATHOLIC CHURCH Shirley Edwards remembers growing up and living behind the Catholic Church in Flaxville. She graduated in 1957 and remembers going to Mass and the church was full of people, rows filled with families. Several large families at the time, to mention a few were – Peter Kurtz, Gene Hatfield, Ron Safty, James Cavanaugh, Lloyd French, and Don Becker families. In the summer, there were 2 weeks of Vacation Bible School where the Nuns would come to town to teach about the Catholic Faith.
The church congregation was very active. They held an Annual Turkey/Ham Dinner for many years, serving over 200 people each time. As the years went by and the families grew up, most of the children moved away, causing a decline in the number of parishioners.
The closure of the church was in 2008. The building was sold to Walter Lais in 2011.
The beautiful stained glass windows were sold to the Catholic Church in Wolf Point except for two, which are now framed and in the baptistry portion of the Catholic Church in Scobey. The building is now being converted into a hunting lodge.
FLAXVILLE BARN/ COMMUNITY CLUB 1926 – Fire destroyed the Theatre and it was rebuilt.
Used for many celebrations throughout the years. Jaycee's ran the building when they were active, then the Flaxville Community Club was organized and they continue to schedule and do the upkeep of the building.
750 Club, Pheasants Forever, Fireman, Pro-Co-op host functions in the building throughout the year.
1992 – Interior was remodeled.
New furnace was installed and inside painted and closed off the balcony.
2005-2006 – Remodeled kitchen and both bathrooms.
2008 – Stage was remodeled and ramp put in for the bathrooms.
2015 – Exterior was remodeled, new roof, new siding and windows and doors were replaced.
Donations were generously given from across NE MT.
The building is used for 750 Club Banquets, PRO Co-op/ Cahill Breakfast, Fireman's Fundraiser.
FLAXVILLE FIREHALL 1997 – New Firehall built by grant funding and local fundraising and community volunteers. This facility was built to keep fire equipment and vehi- cles inside and upgrade from a smaller building.
R-Y TRAIL BAR 1913 – The Building had many purp...