Posted on
Scobey B-ball Teams Striving For 3rd & 5th Straight State C Berths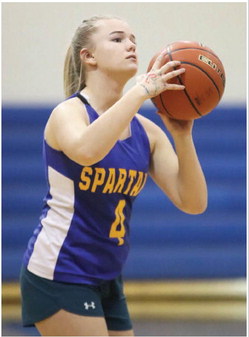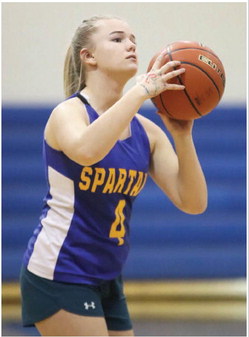 Three and five.
Those are the most significant numbers for the Scobey High School girls' and boys' basketball programs as they head into game action next week in Westby against the MonDak Thunder.
Three for the gals means a third consecutive appearance in the Montana Class C State Tournament after placing third in Great Falls in 2019 and somewhere between third and sixth in Missoula last season during the pandemic-cancelled last day of the tourney. The Lady Spartans posted an overall record of 47-4 (.921), scored 2,590 points for a 50.7 per game average and allowed 1,622 (31.8) defensively during the two-season stretch.
Five for the boys means a fifth straight berth in the State C Tournament af- ter placing third in 2017 in Bozeman, fourth in 2018 in Butte, third in 2019 in Billings and sharing the state title with the Fairview Warriors last season in Missoula (that pandemic thing again!). In those four seasons the Scobey boys have accumulated a 99-6 (.942) overall record, tallying 6,845 points for a 65.1 average and allowing 4,192 (39.9) defensively.
If those three and five figures come to fruition in late February for the girls and early March for the boys, it means both will be taking a bus trip bound for Bozeman, where the 45th annual girls and 72nd annual boys state tourneys are scheduled to be held in Brick Breeden Fieldhouse on the campus of Montana State University (which is very much subject to change according to the Montana High School Association).
The Scobey boys, who are 50-1 in the past two seasons and take a 28-game winning streak into 2020-21, have four of their five starters back from last season, including Parker Cromwell (8.0 points per game in 2019-20), Aidan ...