Posted on
Chester Juel 1921 – 2020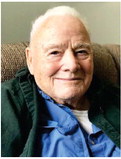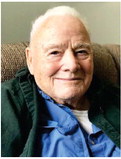 Chester Douglas Juel was born June 2, 1921 in Pretty Valley, Saskatchewan. He passed away at the Daniels Memorial Healthcare Center on December 1, 2020 following a brief illness at the age of 99. He had been a resident of the Nursing Home for 3 years.
Chester was the second of six sons born to Hazel (Hanson) and Didrik Juel. He graduated from Scobey Public High School in 1940. In an interview with his granddaughter Brinnli he shared that his favorite teacher was Mrs. Story who taught English, his favorite subjects were English and Physics, his best friend was Raymond Lapierre, and his first job was shoveling
wheat for a dollar a day when he was 15 years old. Hi...