Posted on
BORING MACHINE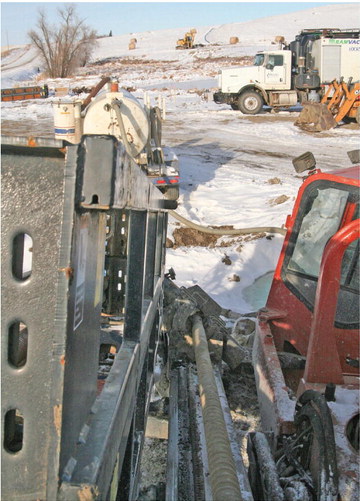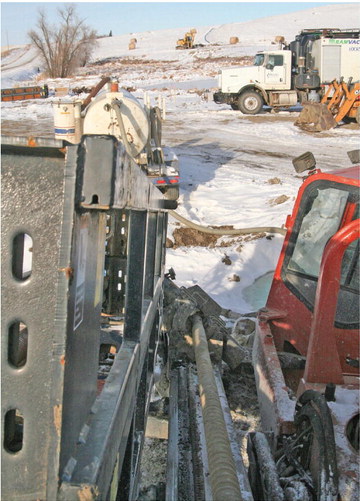 BORING MACHINE about 8.5 miles south of Highway 5 is in place and preparing to bore a 500 foot run of 12″ pipe from the pump station to the Madoc elevated tank. During system pressure testing, a leak was discoverd in the pipe which had been bored beneath the small wetland area earlier this year (just off the nose of the white truck). The 500 feet runs from the end of the boring machine in foreground to the yellow track hoe near the top of the photo. When this bore and hook-up is completed the rest of the system will be ready to go on line. –Leader Photos, bb
DRY PRAIRIE RURAL WATER pump station about 11 miles southeast of Madoc on Rangeline Road with a large backup generator in foreground is located just east of Furuli Farms. The building is home for three big pumps in one large room and two separate rooms for chemical treatment injection.
AT THE PUMP STATION BUILDING water comes into DPRW system from an Assini – boine Sioux Rural Water Supply System non-elevated tank, a couple miles south of the location on Fort Peck Indian Reservation. The water comes into the pump station at around 80 pounds per square inch and these three pumps are capable of pumping up to 1,980 gallons per minute at up to 100 p.s.i. to the Madoc elevated tank and beyond. In the other end of the building, chemicals are injected before pumps boost the water into the DPRW system. Water is tested daily at this site and at twice weekly in Scobey and Flaxville.
ALL THE CONTROLS are pretty high teck with thousdands of wire running through these main control boxes in the pump station. Everything on the system can be re – motely operated and monitored. John Vulte of Williston, an electrical/electronics tech of Agri Industries, was busy sorting out wires and finishing up the control boxes at the pump station when we were there.