Posted on
Tom Halvorson 1938-2020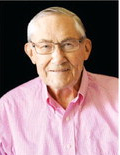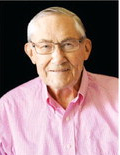 Thomas M. Halvorson, formerly of Scobey, passed away on November 5, 2020 at age 82 in Billings, Montana. His battle with several medical issues through the years showed his courage in facing life's challenges with a smile and a quick-witted joke. Despite the pain, Tom came out a hero and stayed strong until the end.
Tom was born in Scobey on June 10, 1938 to Sophie & Ernie Halvorson. After graduating from Scobey High School in 1956, he went on to serve his country in the Army, stationed on Oahu, Hawaii from December 1959 to March 1962. Tom returned home to Scobey, where he built a lifetime of memories and friends through his involvement in the community.
Tom would often share fond memories of life in Daniels County, highlighted by his work with Bush Decorating Service for over 20 years and retiring from Nemont Telephone Cooperative after 24 years. He helped to establish the curling rink, served as a member of the Saddle Club, volunteered with the Scobey Fire Department for 24 ½ years, and participated for several years in the Northeastern Montana Wagon Train. Tom also worked rawhide with his good friend Bill Michel, crafting ropes and bridals. Tom grew up playing cards and was a sought-after card partner.
On July 27, 1975, Tom married his wife, Linda, in Miles City. Their courtship started out with dancing, which they continued to enjoy for many years. Together, they shared 45 years dedicated to raising their two daughters, Jenny and Ivy. Family camping trips, holiday traditions, barbequing and family game nights were among Tom's favorite activities and memories. With the arrival of grandchildren, Tom became "Papa Halvorson", and cherished the role with love, patience and sage advice for the kids. Papa shared a special bond with "Muncho" Garrett, and always looked forward to visits with Madison and Hayden. Above all, Tom was proud of his family.
Tom was naturally gifted with his gardening talents, which were always on display with beautiful flowers and a perfectly manicured lawn. He was equally talented with painting, making even the most difficult jobs seem easy. After participating in high school basketball, and curling and team roping as a young adult, Tom went on to become an avid spectator of sports. His favorites were local football, basketball, baseball and rodeo. Tom had been a season ticket holder of the Billings Mustangs baseball team for several years and always looked forward to attending games every summer.
Tom is survived by his wife Linda; daughter Jenny (Tom) and children Madison and Hayden of Southern California; daughter Ivy and her son Garrett of Wyoming; nieces and nephews Tom, Jon, Kristy and Mary; and several cousins. Tom is predeceased by his parents Sophie and Ernie, siblings Ernest "Slick" Halvorson and Beverly Kennedy; and his Aunt & Uncle, Christina & Andy Veis.
A family memorial service will be held at King of Glory Lutheran Church in Billings and burial in Scobey at a later date. Memorials may be given in his honor to King of Glory Lutheran Church or Scobey Lutheran Church.