Posted on
Ronald Safty 1932 – 2020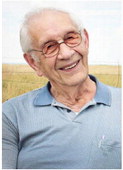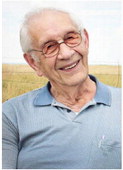 Ronald Lee Safty, 88, of Scobey, MT passed away on Thursday, November 5 at the Daniels Memorial Healthcare Center in Scobey, of natural causes. Ron was born on June 12, 1932 in Scobey to George and Cora (Goulet) Safty, the fourth of six children. He was raised on the family farm west of Whitetail. He went to school in Whitetail until the eighth grade and high school in Flaxville, graduating in 1950.
Ronald attended Northern Montana College in Havre for less than a year before moving back to Whitetail to ranch with his dad. During those years he also worked other jobs. He worked for the power company, helping to put up poles, as electricity was just coming to the area. He also worked for a construction crew that was building the new hospital in Scobey.
Ron met Geraldine Danelson at a dance at the Scobey Saddle Club in 1952. They were married on July 2, 1954 in Scobey. For the first year and a half
of their marriage they lived in a trailer at his parent's Whitetail farm. In 1956 they moved to his grandfather, Joseph Goulet's homestead three miles southwest of Flaxville. There they farmed and ranched. Ron was very proud of his Red Angus Cat- tle, the first ones in Daniels
County. Ron and Gerry had seven children in 10½ years, raising them on the farm.
Early in their marriage, Ron and Gerry enjoyed square dancing, attending some conventions in North Dakota and Canada. Some of his hobbies included playing basketball, baseball, bowling and playing cards. He was very proud of his children and enjoyed following their activities and watching them play basketball at Flaxville High School. They also enjoyed traveling and went on many trips to Las Vegas and to visit the kids. He was very excited to welcome grandchil- dren starting in 1976. His
grandchildren were among his greatest joys.
They lived on the farm until 1990, when they moved to Scobey in retirement. Ron enjoyed playing cards, checking on the local crops, helping friends move vehicles, keeping track of what was happening around town and family gatherings over the years.
Ron served on the Flaxville School board for several years. He was a member of the St. Louis Catholic Church in Flaxville and the Knights of Columbus, then the St. Philip's Catholic Church in Scobey.
Ronald was preceded in death by his parents George and Cora, his sisters Marcella June Safty and Carol Harris, his brother Delmer Safty and his grandson, Spencer Safty.
Surviving him are his wife of sixty-six years, Geraldine; his seven children: June (Irvin) Odegard of Whitetail, MT and Nuevo Vallarta, Mexico; Rod (Roger Deromedi) Safty of Burleson, TX; David (Stefanie) Safty of Stanton, NE; Linda (Dennis) Unsworth of Bisbee, AZ; Mike (Adaire) Safty of Thousand Oaks, CA; Janet (Alan) MacDonald of Absarokee, MT; and Peggy (Steve) Hansen of Glasgow, MT; and sisters Mary Tymofichuk and Deb orah Crossland.
Also surviving him are twenty grandchildren and six step-grandchildren: Angela, Aaron (Sunny) and Adam (Andrea) Odegard; Callie Safty; Jessica (Boyd Harrington), Daniel, Kelsea (Thomas Vander Velde), Faith and Gabriel Safty; Jeffrey (Bridget), Ian and Curtis Anderson, Jay (Amy) and Lauren Unsworth; Ryan (Sarah) and Jordan Safty, Heather, Sarah and Kasey Mutz; Brady (Robyn) and Hana Paladichuk, Whitney MacDonald (Andrew Beith); Marina (Patrick Burke), Madison, Andrea and Salomon Hansen. He is also survived by nine great grandchildren: Ave, Ila and Axl Odegard, Tyler and Trevor Vredenburgh, Ryland and Oliver Harrington, Olive and August Anderson, as well as many nieces, nephews and friends.
No funeral services are being planned, at his request. There will be a family gathering in the summer of 2021 or when it is safe to do so. Memorials can be made to the Daniels Memorial Healthcare Center (PO Box 400, Scobey, MT 59263), the Flaxville Fire Department (PO Box 62 c/o Richard Carrier, Flaxville, MT 59222) or any charity of your choice.
Waller Funeral Home in charge of arrangements.