Posted on
Blue & Gold Hosts Black & Gold To Seek Which Is More Golden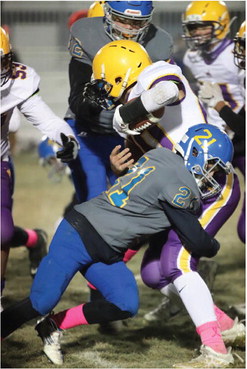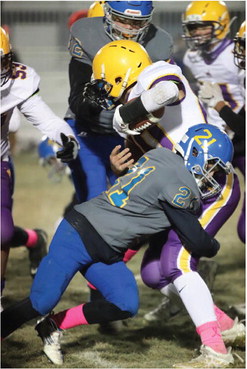 The Blue and Gold that is the Scobey Spartans and the Black and Gold that is the Cascade Badgers are set to collide in the the first
round of the Montana High School Association Class C 8-Player playoffs.
The Spartans (East 1st, 7-1, 382-102, 47.7-12.7) and Badgers (North 5th, 5-3, 237-187, 29.8-23.3) kick off on Scobey's Plainsmen
Field Saturday, October 31,
at 1 p.m. (Radio: KCGM
95.7 FM).
The extended weather forecast for Saturday's matinee as of 9 a.m. Tuesday, October 27, is sunny with a high temperature near 38
degrees above zero and a
northwest wind in the 13-to-
17 miles per hour range with gusts upwards to 28.
Cascade is led by head coach Eric Dirk. He owns an insurance business and spent the past six years as head coach of the North C Division's Simms Tigers, who travel to Thompson Falls this weekend for a first-round matchup. The