Posted on
With One More Win Spartans To Enjoy Playoff Home Cooking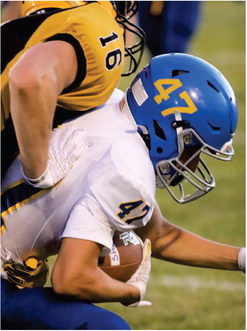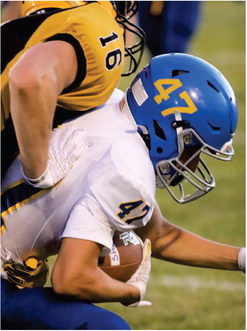 SCOBEY SOPHOMORE ZAKARIAH TRAEHOLT, Mr. Fast Feet himself, had a very nice 22-yard touchdown rush with some very solid blocking leading the way to cap the scoring in Saturday's 52-0 victory over
the Plentywood Wildcats. He is shown hauling the
rock in the first game of the season in Grenora, North
Dakota, where the MonDak Thunder dealt the Spartans their only loss thus far in the 2020 campaign. — Leader Photo, mike
Seven hours after Scott Farris, Joe Hammar and Gordy Leibrand cleared a blanket of snow off Plainsmen Field, the Scobey Spartans cleared out the Plentywood Wildcats making room for the Culbertson Cowboys.
In a dominant performance the Spartans (6-1, 332-90, 47.4-12.8) blanked the Wildcats 52-0, and did it in quick fashion. By the end of the first quarter it was
30-0 and 46-0 after opening the second half with a 7-rush march (16,8,6,4,5,16,10) covering 65 yards.
The defense was very miserly, holding Plentywood to 36 total offensive yards.
Gage Southland set the tone by recovering a fumble at Plentywood's 29-yard line on the second play of the game leading to a 6-0 advantage. The Wildcats wouldn't enjoy their ini...