Posted on
Lillian Wyman 1932-2020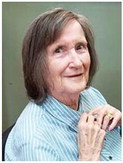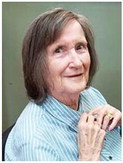 Lillian Delores Sletten Wyman, formerly of Opheim, MT, passed away on October 1, 2020 at Cape Fear Valley Hospital in Fayetteville, NC. She was 88. She was born on June 22, 1932 in Scobey, MT. She attended Pleasant View Country School and graduated Peerless High School in 1952.
On February 26, 1952 Lillian married Chauncey Axel Wyman at the United Methodist Church in Scobey, and together they had four children. She worked as a nurse's aide at the Daniels Memorial Hospital before joining Chauncey in Mountain Home, Idaho where he was stationed following active duty during the Korean War.
Lillian was a farm wife and stay-at-home mother with strong community ties. She was active in the Methodist Church and the American Legion Auxilia- ry and held several officer
positions over the years. She was an avid reader, a
prolific seamstress, loved
to oil paint, enjoyed league bowling with her friends, attending community concerts and school functions of her children.
Her husband and best friend, Chauncey, her children Clara, Jayne, John and Claudette along with six grandchildren and ten great-grand children, and her brother Torlief Sletten survive Lillian. Her parents, John and Ruth Sletten, and her siblings, Glenn Sletten, Ileen Winderl and Joanne Sletten predeceased her. Memorial services pending.
The family aextends special thanks to the staff members at The Crossings at Wayside and Crumpler Funeral Home in Raeford, NC and Village Green Health and Rehabilitation and Cape Fear Valley Medical Center in Fayetteville, NC.
Memorial donations may be made in Lillian's name to Alzheimer's Association.