Posted on
Now That WIL Is Out Of Way, It's Time To Get Back To WIN!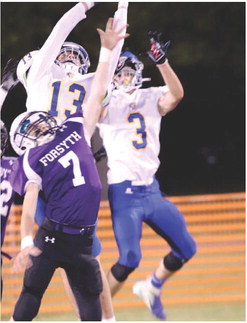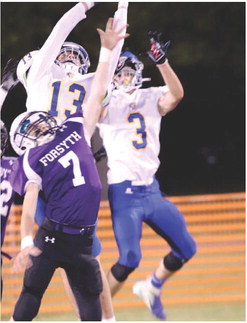 SCOBEY'S CADEN HANDRAN (13), Parker Crom - well (3) and Forsyth defender Eli Johnson (7) go up for a jump ball in the east end zone during Friday's game at Riverside Park Field. Handran came down with it, one of his five touchdown receptions during the Scobey victory. - Leader Photo, mike
Fairview Does Favor By Pounding MonDak
WIN!
Yes, it means victory, triumph and conquest, which the Scobey Spartans accomplished against the Forsyth Dogies Friday, October 2, in a 56-6 clobbering in Rosebud County.
It is also an acronym for What's Important Now, which is not if the Scobey Spartans are playing the Cascade Badgers (4-2, 194-113, 32.3-18.8), Chinook Sugarbeete...