Posted on
Clarice Susag 1918 – 2020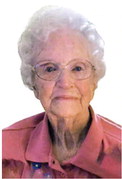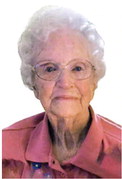 Clarice Mariam Travland Susag was born to Clara and Aanen Travland on a Pretty Valley (Coronach), Saskatchewan homestead, April 20, 1918, just north of present- day Scobey, Montana. She passed away peacefully on October 2, 2020 at the Daniels Memorial Healthcare Center in Scobey with her son, Carl by her side. She was 102 years old.
Clarice was most proud of the gifts she received from her parents. From her father, she learned the meaning of hard work and the joy of music. In the mornings, she'd go to the barn to milk cows—faster than her older brothers. In the evenings when school and work were done, the six children— Orin, Arnold, Edna, Genevieve, Norman and Clarice, and Mom and Dad—would take up their trumpet or guitar or fiddle or banjo or
accordion to play and sing hymns around an old organ. Then on Thursday nights, all but Clara would go to church choir practice while Clara stayed home to clean up the supper dishes.
From her mother, she learned to bake bread, plant and harvest a garde...