Posted on
couple of steps past his ….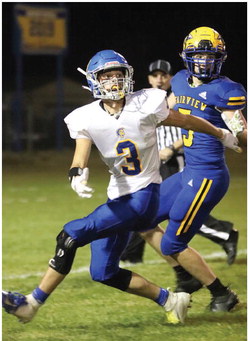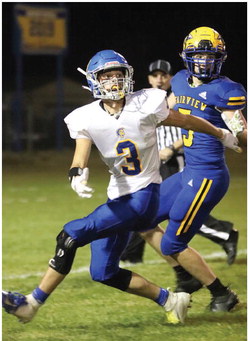 couple of steps past his defender
on a fly pattern along the north
sideline and Tande's long arching bomb was right on the mark without Handran breaking stride.
NOTE: It says the drive was 47 yards but the TD pass covered 59 yards, which was a result of a 10-yard holding penalty on the Spartans.
FAIRVIEW — Brady Buxbaum 5 run (pass failed), 3:21.
SCORE: Scobey 16 Fairview 6.
DRIVE: 9 plays, 67 yards, 4 first
downs, 3:23 time of possession.
KEY: The Warriors used five long gains covering most the field,
including four rushes of, in order, 10, 21, 20 and 12 yards and a pass reception picking up 20 yards.
Fourth Quarter
SCOBEY — Cromwell 5 pass from Tande (Oie run), 10:41. SCORE: Scobey 24 Fairview 6. DRIVE: 7 plays, 24 yards,
1 first down, 1:42 time of pos session. HUGE PLAY: A blocked punt by Zach Turner gave Scobey possession at Fairview's 24-yard line with 23 seconds left in the third quarter and was perhaps the turning point of the ent...