Posted on
Spartans Clobber Carter County To Keep Home Playoff Date Alive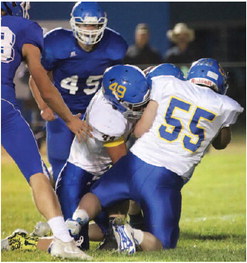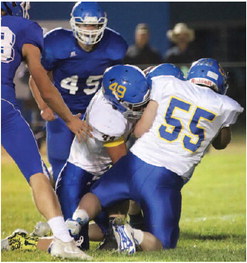 Have Big Opportunity To Defeat Fairview
If there was ever a more opportune time for the Scobey Spartans to end their nearly-decade-long losing streak to the Fairview Warriors, it is tomorrow night (Friday, September 25) on Starr Field. The 10-game skid dating back to 2011 has seen the Warriors, the defending Class C 8-Player state champion, outscore Scobey 536-to-210 points. Friday's kickoff in Fairview is set for 7 p.m. (Radio: KCGM 95.7 FM), with the junior high teams playing at 4:30 p.m.
The clearest barometer suggesting Scobey could come away with the victory is the final score against a
common opponent, which in this case is the Carter County Bulldogs of Ekalaka. The Warriors (3-0, 3-0, 142-54, 47.3-18.0) defeated Ekalaka 32-24 in the season opener Friday, August 28, in Fairview, with the Bulldogs fumbling inside Fairview's 10-yard line late in the game. Scobey traveled to Ekalaka last Friday and returned home with a convincing 56-22 victory.
The Fairview game is there for the taking if the Spartans can stay away from the penalties (10 for 85 yards in Ekalaka) and turnovers, which they have through four games by remaining on the low end of an 8-to-21 ratio. A victory by Scobey (3-1, 3-1, 210-78, 52.5-19.5) would be a giant step toward hosting a first-round playoff game in
late October, which it did last season against Belt for
the first time since 2008.
The Spartans tallied on
all six of their first-half pos - sessions in Ekalaka and first
eight overall but failing on
their ninth and final posses - sion of the evening when the starters came out and younger reserves went in.
Scobey's passing game was sharp as quarterback Jayce Tande had plenty of protection to complete his first seven throws for 139 yards. He finished 10-of-13 for 189 yards. His final throw was a 13-yarder for six point...