---
Several local volunteer ghouls and Halloween enthusiasts thought it would be good to put together a haunted house this year. The idea expanded to hau...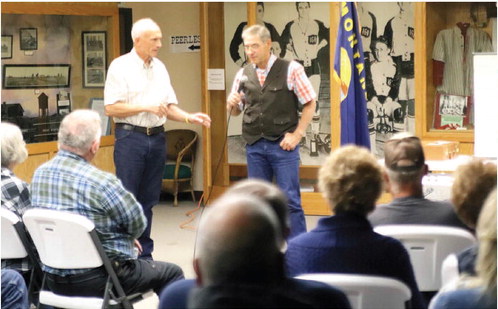 ---
JERRY SCHILLINGER (left) of Circle (House District 37) and Bob Phalen of Lindsay (HD 36), both first-term members of the Montana House of Representati...
---
The 35th annual meeting of Daniels Memorial Hospital Foundation is tonight, Thursday, October 21 at 6 p.m. The meeting open to the public is at the D...
---
The Scobey Golf Club annual meeting is 3 p.m., Sunday, October 24 at the clubhouse. All members are urged to attend. This will also provide an opportu...
---
The USDA Natural Resources Conservation Service (NRCS) is accepting applications for the Conservation Stewardship Program (CSP) and Environmental Q...
---
Beginning today, October 21, the Daniels County Health Department will have a short monthly education session at the Daniels County Senior Center. ...
---
Daniels County Commissioners and MSU Extension are sponsoring a Board Leadership Training for all members of local boards on Monday, October 25, hel...
---
Roger Gilbertson, 71, of Antelope, died Monday, October 18 in Plentywood hospital. He was a long time Daniels County resident and south Flaxville area...
---
October 25, 2021 Current Active Cases: 13 New Active Cases: 0 Newly Recovered: 0 Isolated At Home: 12 Currently Hospitalized: 1 Tota...